She is a powerful, but unique and complex Mage hero at the same time. Just like Zhask, she has four active skills without having to morph (transformation). However, its capabilities are fairly complicated and difficult to understand.
Lunox, a Powerful Collaboration of Light and Darkness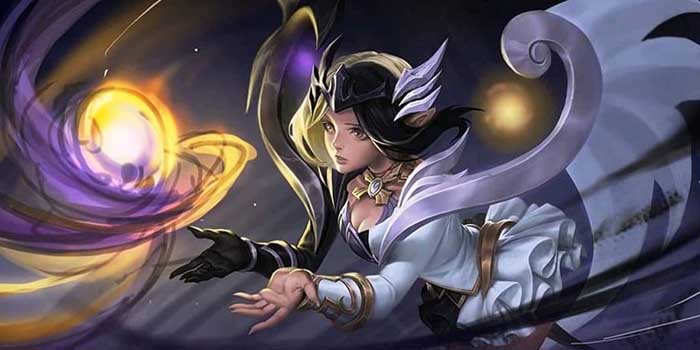 moonton
Lunox is told as a talented magician who is able to master the power of light and darkness at once. In addition, he is also able to enter and exit the dream world, and trap others into it. When the balance of the world is being threatened, Lunox knows that he is the one who must sacrifice to return it. He entered the dream world and entered into part of the Twilight Orb to balance tranquility and chaos.
As explained above, Lunox is not a Mage hero. It takes an understanding of the level of the god so that you can release the maximum potential. So that it won't be complicated on its own when using it later, you better consider the explanation of the five skills mastered by Lunox below.
1. Passive Skill - Dreamland Twist
kincir
Due to the 'title' as the ruler of the power of light and darkness, Lunox can no longer feel the time and reality. As a result, he did not benefit from the effect of reducing cooldown duration. While in dark mode, the cooldown reduction effect will be converted to magic penetration. Meanwhile, if he is in light mode, the cooldown reduction effect will be turned into a magic defense that is doubled in value.
As a Mage hero who needs spamskill, cooldown reduction may be detrimental. However, don't be discouraged first. Because, Lunox cooldownskill duration is short. Especially for skills 1 and 2. The penetration effect or magic resistance is also quite noticeable if you have items that accumulate cooldown reduction effects. Lo can also focus more on arranging items specifically damage, magic penetration, or manastack or regeneration to maximize its potential.
2. Skill 1 - Starlight Pulse
kincir
Lunox summons the rain of starlight and directs it towards the enemy. This attack will produce magic damage of 200-300 (skill level 1-6, + 80% of total magic power) to enemies around. The starlight then returns to Lunox and returns the blood of 40-60 points (level 1-6, + 10% total magic power). The regeneration effect will double if this skill is about the enemy hero.
This skill does not look very painful. However, don't forget the area effect (AoE) and regeneration. Very good if you are laning alone when you have to fill your blood. Moreover, the duration of the cooldown is relatively short (2 seconds).
kincir
Lunox when in "light" mode (note the stack is yellow). Dock. Special
Before proceeding to the next skill explanation, there are things you should pay attention to from using this skill. Every time you use it, you will get a stack called Twilight. This stack can be seen above Lunox's head. There are four stacks that can be filled. If you don't have a stack, this skill will add a stack of "light" and make Lunox enter light mode. Meanwhile, if Lunox is in dark mode, then the use of this skill will reduce one "dark" stack.
3. Skill 2 - Chaos Assault
kincir
This skill is a twin of skill 1. This time, Lunox emits chaotic energy that produces magic damage of 240-340 (skill level 1-6, + 120% of total magic power). The affected enemy will experience a reduction in movement speed. Lo will also get additional damage of 3% - 5.5% of the total enemy HP when attacking using this skill.
Contrary to skill 1, skill 2 is the source of Lunox damage. There are additional effects that you really must understand so that the potential of this hero is truly maximum. Lo, you can use this skill continuously without pausing to the enemy affected by Chaos Mark for four seconds. You can get the Chaos Mark after attacking the enemy using the Ulti (Order & Chaos) skill while in dark mode.
kincir
Just like skill 1, skill 2 will add to the stack of Twilight. The difference is that the increasing stack is the "dark" stack. The overall mechanism is the same as skill 1 with the inverse effect stack.
For the record, you can't use skills 1 and 2 simultaneously. Because, if you use skill 1, skill 2 is also paused. Vice versa.
4. Skill 3 - Cosmic Fission
kincir
Combining the power of light and darkness, Lunox attacks a large area. The enemy in the attack area will be exposed to magic damage of 280-480 (skill level 1-6, + 80% of total magic power). This skill also gives a slow effect to the enemy.
In the end there are skills that aren't complicated! Skill 3 is the only Lunox skill that does not have a chain effect on other skills. Mechanically, this skill is purely only providing damage and crowd control (CC) effects with a wide area coverage. 'Pokes' that hurt enough for the enemy during the team fight.
5. Skill Ulti - Order & Chaos
kincir
If you look at the explanation of this skill on the Lunox profile, maybe you will be confused yourself when you read it. Understandable, anyway. You see, the explanation is more appropriate if it is called a fairy tale!
This straightforward explanation. Lunox's Ulti skills are divided into two modes, namely "light" and "dark" modes. When in "light" mode, Lunox changes into a luminous symbol for one to two seconds. When in this mode, Lunox is immune from enemy attacks and CC effects. This mode also provides sustained magic damage to enemies that are around the range of this skill.
When in "dark" mode, Lunox doesn't change form. Instead, he will attack the enemy to a large area (similar to skill 3). The enemy will be exposed to some damage (not explained in detail in the skill description). As explained in the skill 2 explanation, the enemy affected by this skill in "dark" mode will be exposed to Chaos Mark.
"Dark" mode is the key combination of Lunox attacks. The mechanism is practically similar to the combination of Selena attacks between Elf and Abyss modes. So, make sure you have to give Chaos Mark to the target so you can maximize the skill effect 2. Complex, indeed. However, if you understand, the complexity is actually no more complicated than Selena, how come!
Mage fans at Mobile Legends deserve to be happy with the news of Lunox's release. You see, he is truly a powerful hero! His unique strength also made him a difficult hero to guess the style of play. Even so, his strength came with the same level of complexity. Make sure you really understand the mechanism of the five skills so that you can contribute greatly to the fight.
Certainly interesting to see Moonton diligently releasing heroes with challenging levels of difficulty in recent times. However, among other 'complicated' heroes, Lunox can be said to be the most challenging as well as interesting to be understood maximally. The difficulty is also not really felt when compared to Selena, which will soon be released on the main server.
Well, do you feel that Lunox is a hero that is really difficult to master? Or is it the opposite?